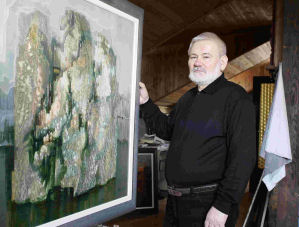 INFORMATION ABOUT MY ART
János Simon was born in 1945 in Sárvár. In 1971 he acquired his teaching diploma at the Teacher's Training College of Pécs majoring in drawing and geography. He acquired another diploma at the Hungarian College of Fine Arts in 1978. He regularly takes part in national and international art camps and symposiums. He is a member of the Hungarian National Arts Council as an artist.
ARS POETICA
"Art is an inner necessity, which carves
a path for itself and frees thoughts and feelings
equally. The want to express with the help
of colours, lights and shapes is
the paintes eternal and insoluble desire."

---
"This is an unspoilt and pure world, preserved throughout, so that we can once be told. It's a wonder that the desideratum of the pleasure of telling is undiminished. Most of János Simon's paintings without a doubt spread the victory of hope and truth. Simon's colours show man's faith and confidence. By use of light he captivates earthly matters. Through light he sends a message, stresses and emphasizes, his paintings become a short hymn and make us believe what he knows, feels and wants."
Szombathely, 30 April 1988
Kiss Sándor
Sculpture honoured by an award called Munkácsi
---
Simon's paintings are partly inspired by literature, cultural history and architecture, intellectual elements receive a more significant role. His works depict a more real idea even if this idea remains hidden. In this way the Biblical tower of Babel once again becomes the symbol chaos. Archaeological digs and their findings have an influence on him. Built within his compositions are his architectural memories from his travels to Italy, Greece and Spain, also subconsciously the less known or less identifiable part of Sárvár castle can be recognised. Almost all architectonic elements appear in his paintings from walls to windows and columns.
Through evocation of the ages' atmosphere his paintings depict sensual pictures of ancient cultures and still existing artistic elements. Naturally, colours play an important role in these paintings, too, which occupy a significant part of his work (Babel, Persia, Revealed memories, Greek memories, Italian memories, Spanish landscape, Memory of a castle wall).
János Simon is a true user of colours. In the previous mentioned works warm colours dominate, yellow, red and the shades of them, orange, reddish orange. In his paintings of Spain he especially uses burning colours to reproduce the characteristic of the Spanish countryside. The works, which sometimes remind us of the use of psychedelic colours of secession and pop art, besides all their glory they bear some kind of meditative form.
In more of his works we can find signs and symbols such as: dots, drips, quads, triangles, circles, waves, arches, scrolls, meandering lines, calligraphic lines, which sometimes float in the area of the picture, sometimes split it in half horizontally, sometimes provide the main theme of the paintings. These signs possess meanings in every culture. Perhaps one of painting's title expresses all of this clearly: "Unknown signs".
Dabóczi Dénes

Arthistorian - Head of museum